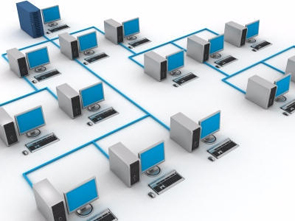 For all the companies that have or want to have computers and networked computer and take your business through these daily computing centralized INPROJECT offers design, implementation, configuration and management structure UTP Ethernet networks and FTP 100 and 1000 Mbps.
The design will determine the physical structure of the network. A good network design is essential to prevent data loss problems, continuous fall of the network, problems of slowness in processing information and computer security issues.
The implementation is the most physical. Takes place after the design and act in different ways:
Adding cards in computers and / or software necessary for a computer network.
Pulling on the premises structured cabling network until the hub. Placing rosettes connection and climbed the structured cabling connectors
Installing the server software. Recommended the installation of cabinets specifically for protecting both the server and other critical elements of the network installation (switches, routers ...)
Proper configuration of computer network plays an important role in the stability and robustness of the network. On one side are configured network cards from different computers. Connections are configured on the local network, emails ... I mainly work with "profiles" so that the computers take on a hierarchy (job 1, job 2 ...) within the network.
Peripheral elements are configured for general use (printers, scanners, fax etc ...)
Finally working server configuration or server: network operating system, IP addresses, subnet masks, activation profiles, users, gateway, internet security and important point.
With management of computer networks is to maintain network operations, efficiently and safely. With the management or administration of the network is:
Identification and authentication of the user password and password (LOPD)
Authorizing access to resources (LOPD)
Privacy (LOPD)
Solving problems in the shortest possible time
Make it more secure network tries to protect it against possible intruders
Monitor changes, network upgrades