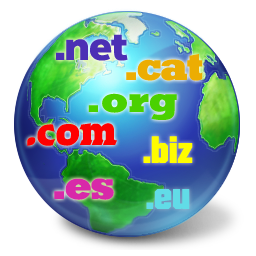 Internet has become an essential channel to disseminate and strengthen the business activities of enterprises. Those that are not located on the Internet, increasingly show a picture of stagnation and lack of innovation.
A Inproject, we make the domain registration procedures, and help you choose the most appropriate name and extension for your business or activity. We also offer you the possibility to transfer the domain if it is already registered with another registrar.
It is important to choose your domain name, if your brand or company name is not registered, you run the risk that someone come forward and register your name or your brand.
Today we are in many businesses that use free Internet services as primary email provider. Although they are very good services in the business world have provided a better picture of the domain name to Internet addresses.
If you already have a domain and wish to register other extensions, we offer the ability to redirect the new domains to your main domain, or use our accommodation multidomain. Have different extensions, provide access to users, and prevents a person outside your company to register your name or your brand with another extension.
The prices for domain registration and renewal, are:
.com, .net, .org, .biz, .info, .biz,: 30 Euros / year + VAT
.cat: 52 Euros / year + VAT
.es: 17 Euros / year + VAT
.eu: 45 Euros / year + VAT
Prices include two DNS servers for each domain.
Generic domains:
.com, extension is the most used, and serves to any page or topic
.net, for network related pages
.org, for organizations, associations, groups...
.biz, for general business pages
.info, to informative websites
Territorial domains:
.cat, for content pages in Catalan
.es, pages services in Spain
.eu, for European countries
If you want to register another domain extension territorial or not on this list, please contact us, and we will advise.