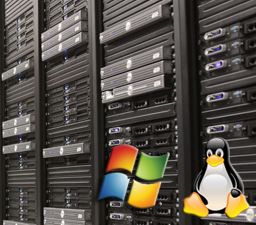 Want to create their website, or want to host your existing site? Need email accounts for your domain?
We offer web hosting service through our own servers on Linux platform located in external data centers, with greater guarantees of security and performance. Equipped with redundant UPS systems, fire prevention measures, 24 hour security ... They also have several circuits of up to 155Mb with different telecom operators, ensuring a solid connectivity to the servers in case of a crash of any operator.
Standard packages offer the following accommodation:
GENERAL CHARACTERISTICS
Disk space
100 MB
200 MB
400 MB
Month data transfer
1 GB
2,5 GB
5 GB
Annual price
120 € + VAT
170 € + VAT
320 € + VAT
Directadmin control panel
Unlimited Email Accounts
Unlimited
Unlimited FTP accounts
Unlimited databases
Webmail access
UebiMiau, Squirrelmail, Roundcube for Reading email
Access to mail via POP and IMAP
Autoresponders and vacation messages automatic

Alias

​​and

m

ail forwarding

Mailing lists
Spam Assassin antispam
File manager
Password change
.htaccess edition
Customizing error pages
Directories protection
Subdomains
Redirects
Apache 2
PHP5
MySQL databases
PHPMyAdmin
Backups managing
Statistics
Scheduled tasks
MIME types
Domain pointers
The fees are annual (we can provide services in other periods on request).
We also offer other configurations, depending on your needs. Accommodation facilities in Windows Server platform for websites developed using ASP and Access databases or SQL Server.